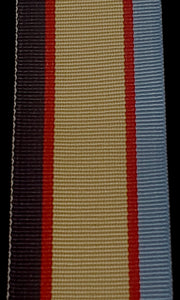 Ribbon, WW2 Australian Service Medal
The Australia Service Medal 1939–1945 recognizes service in Australia's armed forces, Mercantile Marine and Volunteer Defence Corps during World War II.
 Initially, the qualifying period was at least 18 months full-time service at home or overseas, or at least three years part-time service, between 3 September 1939 and 2 September 1945. There was no minimum qualifying period for those killed, wounded or disabled due to service. On 16 August 1996, the qualifying period was reduced to 30 days for full-time service and 90 days for part-time service.
 Australian Forces also qualified for the campaign stars and medals authorized for British and Commonwealth Forces, with the Australia Service Medal worn immediately after the War Medal 1939–1945.
Full size ribbon 32mm width
Miniature size ribbon 16mm width