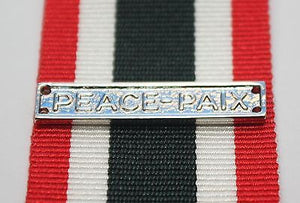 Canadian Special Service Medal Peace-Paix Bar, Reproduction
The Special Service Medal (SSM) recognizes members of the Canadian Armed Forces (CAF) who have performed a service determined to be under exceptional circumstances, in a clearly defined locality for a specified duration. The SSM recognizes approved activities underway on 11 June 1984 or subsequently established. This medal is always issued with a bar that specifies the special service being recognized, each bar having its own criteria.
PEACE
An aggregate of 180 days of honourable service in peacekeeping operations, from November 1947 (the beginning of international peacekeeping operations) to 21 June 2001. It was issued for service which had not been recognized by any other award in, or accepted into, the Canadian Honours system at the time.