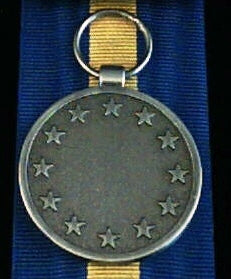 ESDP Service Medal
European Security and Defence Policy Service Medal (ESDP)
The European Union (EU) established this medal on 1 January 2003 to provide recognition to those who serve in EU-led crisis management operations.
The medal is circular, silver in colour, 35 mm in diameter and bears on the obverse the emblem of the EU, which consist of a circle of 12 stars. On the reverse appears on three lines, the Latin inscription "PRO PACE UNUM".
The medal is attached to the ribbon by a ring, which passed through a small ball attached to the top of the medal.
The ribbon is 37 mm in width and is EU blue with a central 10 mm stripe of yellow gold for personnel serving in theatre, the central stripe being white for eligible HQ personnel.
The bars to the medal are of the slide-on type, silver coloured with a raised edge and bear the name of the operation for which it is awarded on a stippled background.